Home


A Dinner to Remember
At Sea, January 2005
The note under the cabin door was totally unexpected: Would we join Captain Hendrik Draper and his wife Cassie for cocktails in the Explorer's Lounge, followed by dinner at their table? I'll say!
It's not that we weren't expecting something from the Captain ....
From the first day's program we learned that Captain Draper's first command was the Volendam, in fact the very cruise we took last year. We remembered that at the Captain's Reception, although his speech was clever, he read virtually all of it, scarcely looking up. Both Betty Lou and I having made many presentations, our comments at the end of the cruise included that he was personable, but needed some coaching in public speaking.
This time, when we were introduced in the receiving line, we told him that we had been on his initial cruise. He replied that he hoped his English had improved! We told him that it had indeed, and also about our suggestion last year.
If you haven't been on a cruise, you may not realize that a significant source of revenue must come from the photos taken at every opportunity–when initially embarking, when disembarking at every island stop, and on formal nights in front of various romantic backdrops, as well as in the dining room. And, of course, with the Captain, at the entrance to his reception. The picture we had taken with him was a good one, so we bought it.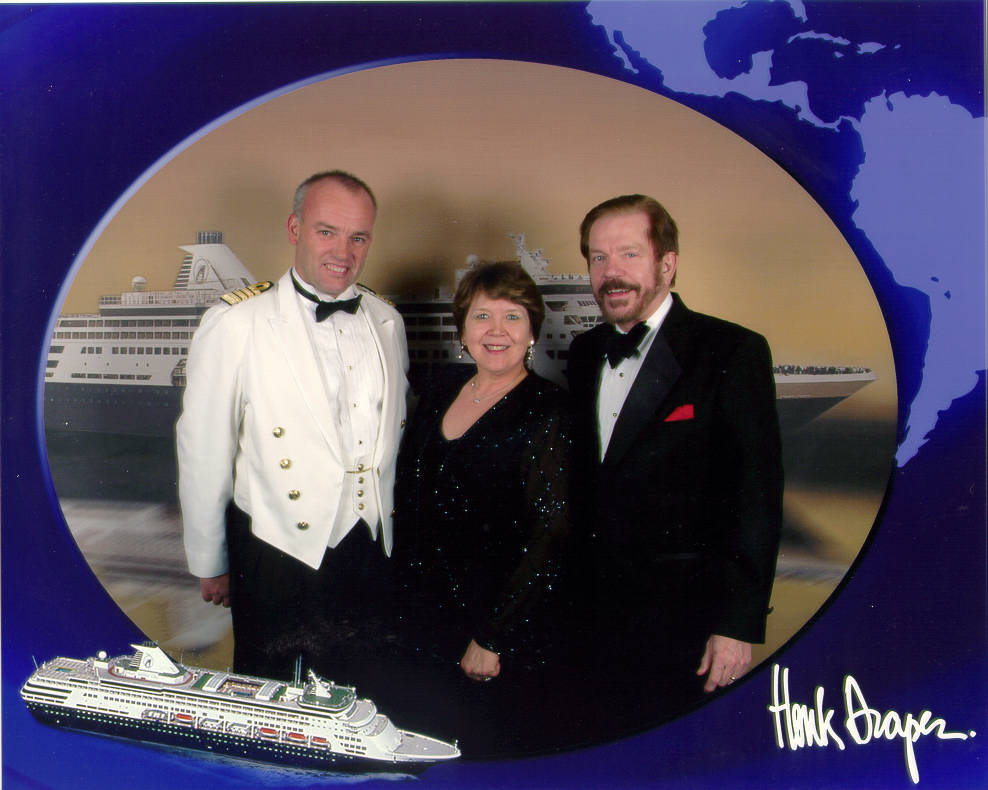 When we came ashore at St. Thomas, the Captain happened to be standing at the pier, and we asked him if he would sign our photo. He said he would be glad to, just leave it at the office. Betty Lou included a note, recalling how we had first met. After several days passed without having heard anything, we began to wonder if the office staff had known what to do with it. Then the note arrived.
At the appointed hour we arrived in the Explorer's Lounge and found that there were only two other couples. They weren't sure how they were chosen, but it may have been based on similar brief conversations. Unlike on the QE2, where the Captain's reception is held in a large ballroom and there is plenty of time to schmooze with the various staff, here it's held in the show lounge, with the passengers seated and the crew being introduced on stage. We had time to get to know a little about each other over drinks and hors d'oeuvres before it was time to gather at the Captain's Table in the main dining room.
We have read that some cruise lines have a large table where each night selected passengers are invited to dine with the Captain, and/or members of the staff. Passengers chosen often are veterans of many sailings–e.g., twenty-five, not just ten, those in high-end suites, travel agents, and relatives of cruise-line executives. In fact, some lines make the selections at the home office. This can lead to the experience of a repeat cruiser we'd read about who had twice dined at the Captain's table and now refused such invitations. He found that "the Captain was jaded, after dining with strangers every night for months on end, and no one at the table had anything in common, leading to long periods of silence punctuated with occasional forced chat."
That certainly wasn't the case here! The Maasdam had only one such dinner on this cruise, on the last formal night, and guests were obviously chosen during the cruise. Perhaps partly based on their conversational interests, because there weren't any silences at our table. With only eight people at a round table, conversation flowed between groups of two, three, four, and the entire table. Betty Lou sat next to the Captain and found him personable, witty, and a fascinating conversationalist and host.
I sat next to the Captain's wife and found her equally engaging. They first met on a previous cruise, where she was in charge of the youth program. When I told her about our observations last year, she said that she had suggested to HAL headquarters that they provide orientation for prospective Captains. The positions leading to Captain involve minimal contact with the public, and suddenly many such responsibilities are thrust upon them.
The food, much of which was not available as selections on the regular evening menu, was also superb, as were the wines, a Riesling and a Merlot. The conversation continued long after others had left the dining room. Of course, no one turns off the lights on the Captain, but when he noticed in surprise that we were the only ones remaining he apologized that we'd have to let our waitstaff complete their work so they would be able to get some rest before breakfast service.
We'd be glad to do it again!
---
The photo arrived the next day, along with a signed copy of the really large parchment "Captain's Gala Dinner" menu.
And he didn't just sign the photo–the front already had a copy of his signature–he penned a thoughtfully personalized message on the back, including greetings for a significant birthday.
© Copyright 2005 Jack Ludwick - All Rights Reserved
Home