Home


Smooth Sailing
February 2006
But that doesn't mean trouble-free.
This year we decided to cruise in February, since it's usually colder here than January. After all, what fun is it going to a warm destination when it's not much different back home, as occurred during last year's January cruise? The Norfolk departure port was once again convenient, but by the time we finally decided to reserve, we got the last outside cabin. More about that in a later note.
Although the ship was the same, the Maasdam, the itinerary was mostly different from last year,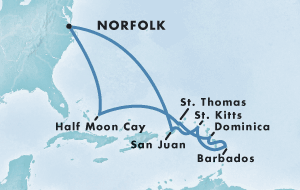 with only the first and last ports of call being the same. Although the sky was overcast, the Atlantic was calm. However, the first day, as we were having lunch in the dining room, which is in the stern, intense vibrations rattled the crystal. Had we hit something? We slowed for a while, but after the vibration returned when speed was again increased, we slowed again.
During the Captain's daily report, within the hour, he announced that problems with one engine, or its controls, meant that only one propeller could be used. However, he reassured us that 99% of the ships in the Atlantic make do with only one propeller, so we would have no problem. However, we couldn't attain the speed required1 to make the first port of call, Half Moon Cay, as scheduled, so we proceeded directly to St. Thomas, arriving there on schedule. You can see from the map that this was a substantial shortcut.
Technicians were flown in to St. Thomas from Germany with repair parts. When we later met the Captain, he said the technicians were continuing with the ship. We agreed that it was a good idea to have hostages. Within a few days, we once again were underway with two propellers.
Captain Draper remembered us from our previous cruise, and even mentioned that his wife Cassie had told him that we thought that he'd have to improve his English. We were disappointed not to be invited to the Captain's Table this time but didn't feel so bad when we learned that, probably because of the disruption caused by the engine problems, there was none this trip. Cassie, who was working at the Shore Excursion desk, told us he had been promptly leaving the many events he was obligated to attend to get back to work.
At one of these receptions, Betty Lou noticed a man at the other end of the room, whose red trousers, red tie, and matching red pocket square set him apart. Of course, she had to compliment him on his sartorial splendor, and we soon learned that Manfred and Uta lived in Frankfurt, in fact, only a few blocks from where we lived when we were there. Who knows, maybe we passed each other in the street!
Ship boarding procedures have changed over the years, incorporating improved technology to address increased security concerns. We used be given a card when we went ashore and returned it when we came back aboard. We also had to show our ID card in each case. More recently, a picture was printed on the back of our ID card, although it was a grainy black and white photo, and a bar code was included. Scanned when leaving and returning, it eliminated the necessity of a separate "going ashore" card. On this trip, although a photo was taken at check-in, it was not printed on the card. Rather, when coming aboard, the scanned card accessed a laptop's database, which displayed the photo. Even if someone had found, or stolen, a card, they would be unlikely to match the photo.
However, it appears that the system is not yet foolproof in all respects. At several ports, after the scheduled boarding time had passed, an announcement would request certain people in specified cabins to contact the front desk. Although some actually were late arrivals (last year, in San Juan, we saw several groups casually strolling up the pier ten minutes late) others evidently had not been logged in when they boarded. Usually, we heard the announcement only once.
Imagine our surprise when, at our last port, San Juan, we heard names we recognized: Manfred and Uta. (Although we do talk to quite a few people on each cruise, we don't necessarily exchange names. And, with some 1,500 people aboard, there are quite a few we never meet.) They were seasoned travelers, and as the announcement was repeated several times, including just before our eventual departure, we feared that a medical emergency might have occurred. We checked several times with the front desk during the voyage back, but never did learn what had happened. At least we could be certain that this wasn't another case of being lost at sea!
---
1The required cruising speed may relate to why Norfolk will not be a Holland America Line port next year. With Norfolk making a major expansion to their cruise ship port, and with increasing numbers of retiring boomers within driving distance, it was a surprise to us that the Maasdam will be transferring to Ft. Lauderdale. An officer surmised that the increasing cost of fuel, and the fact that the ship has to travel at high speed to get to and return from the Caribbean–where it cruises more leisurely–might have priced Norfolk out of HAL's Caribbean market.
In fact, we had already realized that the QE2 now travels in a more leisurely fashion than it had previously. When we returned from Europe after our sojourn in Frankfurt, the QE2 traversed the Atlantic in five days. Our more recent crossings have taken six days–evidently Cunard has determined that the cost of an extra day at sea is more than compensated for by the improved gallons-per-mile of a slower cruising speed.
© Copyright 2006 Jack Ludwick - All Rights Reserved
Home