Home


South of the Border
Mexico
Jan, 2008 & Oct, 2009
"I remember you." said the Maitre d' at the Puerto Madero restaurant. "You're the ones with the bears!" Not quite, but close.
---
The background:
Last October we were again invited to join Betty Lou's sister, Willie (aka Dorothy), and brother-in-law, Tom, in their time-share villa in Playa del Carmen for a week. The previous year, after they had left for the airport, we suddenly realized that if we'd thought of it earlier, they might have been able to arrange for us to stay another week somewhere in the resort. This time we optimistically made plane reservations for two weeks.
Early on, it seemed that something might be available similar to what we found at the Pelican Resort in St. Martin, i.e., $160 a night for a spacious villa. Then, at the weekly Taco Party, Willie was surprised to see a friend who owns several weeks at the Royal Sands in Cancun. Mary Lou had come down for the day, and we learned that the next week friends who were staying in the lock-off apartment of her ocean-view penthouse were leaving, so she'd be glad to rent it to us for $50 a night! It certainly was as advertised:
Flo and Peep, who often join us at restaurants, came along, and we found that they're as popular here as at home.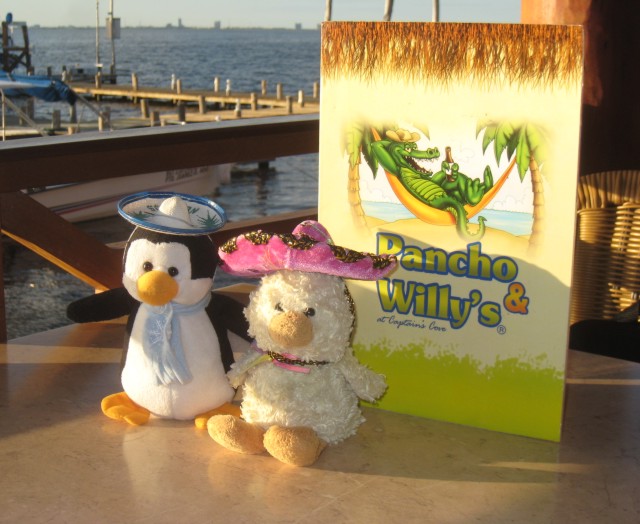 Of course, "Peep" is the sound that little chicks make in the United States – although we've learned that in Mexico they say "Pyo", – and it seemed likely that a penguin would be at home on an ice floe. Oddly enough, they're both close-outs from book stores – Peep is a Beanie Baby castoff from Books-a-Million, and Flo is a Borders Books reject. After Tom presented Flo with an impressive sombrero from atop a tequila bottle, Peep became envious, so she entered a karaoke contest at Pancho and Willy's and won her own.
As you may surmise from the menu, Pancho and Willy are two of the lagoon's crocodiles who drop by during mealtime in the hope that diners may wish to toss them a tidbit.
Flo and Peep, as well as our patrons, enjoyed their visits to many other restaurants, both in the city and the hotel zone. And one day when we stopped by the mini-mart (La Tienda) in the Royal Sands, we noticed a couple of manager types checking out the Day of the Dead altar. We learned that there was a competition among the various resorts for the best display and they were grading this one. After we showed them Peep and Flo and told them of their travels, they said they should also be in the exhibit, at least to have their picture taken, so they made themselves at home.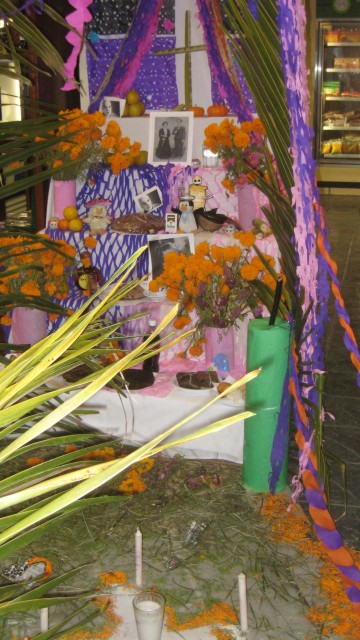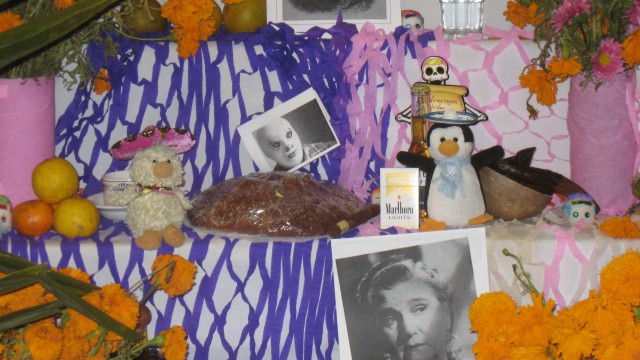 ---
Then, in January Mary Lou called Tom to say that, although friends would again be staying with her for two of the three weeks she would be at the Royal Sands (weeks 3-5), they would be leaving the last week if they wanted to join her. As they have not yet retired, this was not an option for them, but they notified us. When we managed to contact Mary Lou at the resort and said we would be interested, she checked with her guests and found that they would actually be leaving early – in fact, if we wished, we could stay for twelve days at the same rate as before. Of course, we jumped at the opportunity*.
Flurries were coming down as we prepared for departure, which was further delayed when the de-icing truck ran out of fluid and they had to bring in another one. Of course it's always more pleasant to enjoy Cancun's balmy weather when it's cold, and icy, back home.
We found that not only had their previous restaurant visits been memorable, but their various photos had been widely e-mailed among the Royal Resorts staff and even many who hadn't met them last fall recognized them.
Perhaps the Puerto Madero Maitre d' had an intuition about other "favoritos," as Mexicans call pets, who, although they did not come with us on this trip, often accompany us to restaurants, and who do seem to share a bear heritage.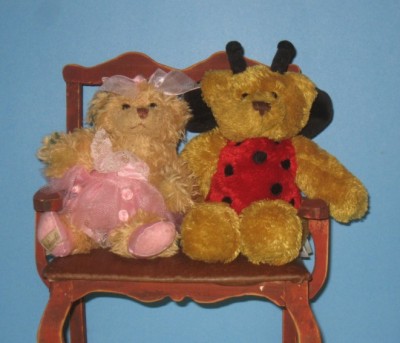 Meredith, the ballerina, is a souvenir Betty Lou bought when we were in Cannes last year. However, when she researched Meredith's heritage after we returned home, she found that she actually was produced in Sweden by a Polish woman who works for a UK company. Catarina (ladybug in Mexico), who somewhat resembles a horned bear, came from FedEx, which was selling them for charity. We were pleased to find that she is one of the rare nine-spotted ladybugs, another of whom had been found not far from us.
Then there's Frisky, a well-behaved Norwich Terrier who is welcome even in American restaurants. In fact, when we neglect to bring him along for lunch at the Prime Rib, a bus staff member asks, "Where's Whiskey?"
Our time passed too quickly, and we were all sorry when we had to leave.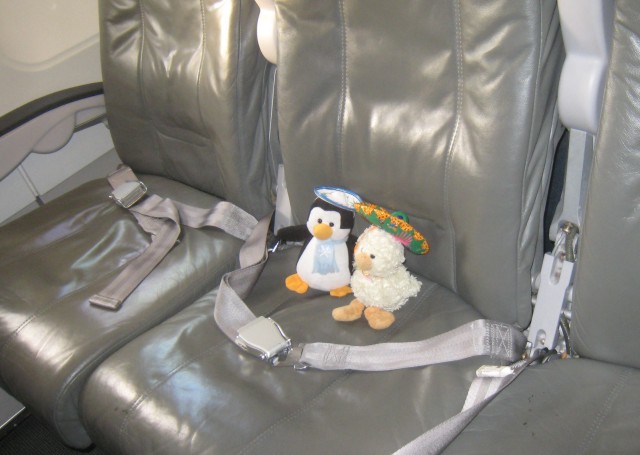 We find that most people agree with Betty Lou that life is too short not to have fun!
---
*On this trip we found that round trip airfares, at least so close to departure, aren't necessarily a bargain. The cheapest nonstop round trip, by USAir, was $501, but flying down on United and returning on JetBlue cost $276.
On the other hand: We're about to leave on the cruise to Portugal on the Seabourn Legend. that we had to cancel last year. Since the ship will then be plying the Mediterranean until fall, we needed to find another way home. Since there are no nonstop flights from Portugal to Washington, we looked into first going to London or Paris and spending a few days there.
We found that the least expensive one-way nonstop ticket from London was $770, but roundtrip fares, "returning" to London in September – another nice time to be in Europe – were $487. Then we found that for another $207, we would be in a fare category which we could upgrade to Business Class for 30,000 miles each way. Who would guess that we'd finally be able to get some use out of those Frequent Flier miles? By the way, the cheapest Business Class fare is $3,878 one-way, $6,078 round-trip, and the base fare of the $694 flight is only $386 – $32 is "Tax/Fee/Charge" and $276 is Federal Excise Tax.
You may have realized that returning in the fall leaves the same return situation, perhaps leading to an infinite series of such round trips. One solution would be to again move to Europe, which is an attractive idea, but a less drastic one is to reverse this trip and return by sea. Unfortunately, the QM2, which we haven't yet sailed, was already fully booked. However, we've booked an even more intriguing trip on the Emerald Princess: eighteen nights from Copenhagen to Ft. Lauderdale, with stops in Oslo; Edinburgh; Dublin; Belfast; Reykjavik; Qaqortoq, Greenland (I had to look that one up!), and St. Johns, Newfoundland for about the same price as the QM2's six-day crossing. With this 3,100 passenger ship, we will have experienced the gamut of ship sizes: Seabourn (200), Silversea (300), Holland America (1,400 and 1,800), the QE2 (1,800), Norwegian Cruise Line (2,400). The QM2 carries 2,600.
© Copyright 2009 Jack Ludwick - All Rights Reserved
Home