Home


Several Serendipitous Situations
London
July, 2002
Since we had minimal luggage, we were able to depart as soon as the QE2 cleared customs, about 8 am. There were plenty of taxis waiting to take us to the Southampton train station, and we were at our hotel in London, the Radisson Vanderbilt in South Kensington, at around 10. Since we were so early, we told them we'd leave our luggage and do some sightseeing and they promised to save us a great room – our stay was for five nights. ("Garden view from one window, sea view from another!") We greatly enjoyed The Wallace Collection, including a delicious light lunch in their courtyard, which was covered by a glass roof, followed by some shopping at the nearby Marks & Spencer.
When we returned to the hotel (originally a Vanderbilt mansion), we were taken to our room – in which we immediately detected cigarette smoke. When we called the front desk, they claimed it was a non-smoking room, but the ashtray on the table was a giveaway. The next room they showed us had a large bed, but there was hardly room to move around it. This time Betty Lou demanded to know if this was the best room they had. We found they did have a better room – it was twice the size of any we'd seen, with a king size bed, a sofa, and a big bay window in the front. The price was the same as what we'd been quoted: £99, including VAT, all other fees, and a full English breakfast; based on their web site, I think this was a £183 room. I guess somebody didn't show up – a card on the desk offered a free drink at the 68-86 Bar (the Vanderbilt address on Cromwell Road) to a Mr. Kenneth Aylworth. The bartender didn't require identification.
---
Since we didn't have a restaurant reservation that night, we wandered around the neighborhood, directed by the Michelin Guide, and dropped into the Bombay Brasserie at 7:10. We found that they didn't actually open until 7:30, so we decided to relax in the "Raj style" (Michelin description) front room with an aperitif – we had done a lot of walking. The restaurant looked like it would be narrow but deep, but when they led us back it was into another side room, the "conservatory." It was a large room with skylights, hanging plants, and a fountain – we later found they served 500 people that night and that it cost £10,000 a year to keep the plants healthy.
The menu covered all areas of India, including ones I'd never heard of. There were few customers yet and we struck up a conversation with the man who had taken us to our table. He told us that it would soon be bustling; there was a reservation for thirty and the twenty Japanese men who were presently having cocktails in another room would soon be seated. We told him how much we enjoyed food and wine and how interesting we found the menu. We then learned that he was Adi Modi, whose card said "Sr. Vice President and Director of Taj International Hotels Limited." Here, he was obviously making sure everything ran smoothly.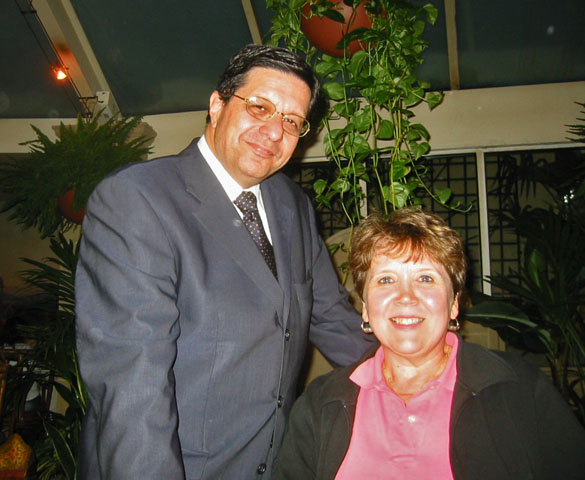 Twenty years ago he'd been manager of one of the Taj hotels in Yemen when his boss called at 2 AM and asked to take the next plane to London to create a new restaurant! He arrived with one suitcase and found the proposed site had many problems. Although there was a narrow restaurant, they also bought the adjacent hotel, which he said was "a dump," to get the land for the conservatory. He was told that he shouldn't name a serious restaurant a "brasserie," that people would think it lower class, but within a few weeks it was a hit. Although perhaps the fact that they opened on a date chosen by an astrologer they consulted had something to do with it.
He later returned and brought us a copy of his cookbook whose early chapter told about the restaurant's beginning and included pictures of him and the chef. And the recipes made us even hungrier. The food was delicious, spicy but flavorful and with no gastric aftereffects. As we were leaving, we thanked him for showing it to us. He told us it was ours, and he inscribed and signed it. Two days later, after a disappointing lunch, it was natural to contrast it to the Bombay Brasserie meal. When later that afternoon we began to think that we might be able to also eat dinner – we normally only have one main meal a day, although the QE2 had somewhat changed this schedule – we decided to see if it was possible to still dine there that evening. By then it was 6 but when we called for an 8:30 reservation, Adi answered the phone himself and said "For you, no problem." And sure enough, a prime table next to the fountain was reserved for us in the midst of a packed house.
---
A couple of days later we had another disappointing lunch,this time at John Burton-Race, a Michelin two-star restaurant (out of three) in the Landmark Hotel in Marleybone, and we complained about it. The entrée was calves liver, and one of the two slices was laced with gristle. (We'd earlier had delicious liver at a pre-theater-priced dinner at DECA, a new restaurant in the burgeoning Nico empire.) Betty Lou said it should have been cut out before cooking. The Maitre d' was dismissive; when we requested that he take it to the kitchen and ask the chef if it was acceptable to him, instead he walked away. When he came back he said the chef said it was impossible to remove all gristle. We told him it was unacceptable to us, to take it away. He returned with a second portion, one of which again had gristle. (We recently had an opposite example at a lunch in McLean. When Betty Lou seemed to be disenchanted with her first bite of a calamari – she said it was as chewy as an inner tube – the waiter was immediately there to ask if she'd like something else. She tried the next piece, which, like the remaining ones, was fine.)
Although John Burton-Race himself isn't actually cooking there any more – he owns the hotel and now there's another chef in charge – he happened to be having lunch with a journalist and his PR person at the time. She heard about our complaint and came over to ask what they could do. Could we come back for dinner some time? I'm sure that would have been a great opportunity (we'd specifically come at lunch because there was a special, reasonably-priced, prix fixe menu then; dinner was a lot more expensive), but unfortunately we were leaving the next day. We didn't have to pay for our meal? We already had, including a decent tip, because the service was fine. They could refund our money? No, because most of our meal was okay, and the half of the second portion they finally brought was all right.
We finally suggested a cognac and espresso, because that's what we had considered ordering before the unpleasantness. She suggested we repair to the lounge, with plush sofas and tall windows. She also asked if we'd like to talk to John Burton-Race and we said we'd like that. We'd barely ordered when he joined us in the lounge and we talked for half an hour!
And what a wide-ranging conversation! He blamed the Maitre d's actions on his being French. (We later found out that his previous wife was French; I don't know if there was any connection.) We didn't get a chance to tell him that we'd had several occasions in France where they handled situations much better than this guy did. He told us about his trips to the US and how he once considered opening a restaurant in New York City. At some point we apologized for keeping away from his interview and he told us, "It's only a journalist!"
His latest passion is good ingredients and he was concerned that the unification of Europe was eliminating diversity. He's going to start filming a cooking series in a chateau (although he says it's not that grand; it's now a B&B and they'll be staying in a restored barn) in southern France in the fall featuring the finest natural ingredients. The producer is the one who conceived of "Two Fat Ladies" and "The Naked Chef." And he invited us to join him there – he said he'd okay it with "Channel 3." Unfortunately, it was another case of all talk, no action – we would certainly would have loved it! After he left we had another cognac and double espresso, and when the bartender described the quality and age of the cognac he was serving – we finished the bottle – I think that what we had after lunch was worth more than the lunch itself!
---
Our return flight more than made up for the time wasted on arrival, when, after our early arrival we were bussed to a hotel, where we waited three hours until we were bussed to Southampton, where we waited for two more hours, until boarding the QE2.
When we arrived at Heathrow, early as usual, we were asked if we'd agree to take the next flight, three-and-a-half hours later, in exchange for Business Class seats. No doubt we were chosen because we were dressed as if we belonged there. We spent about three seconds considering the offer. Of course, we spent the time until departure in the Red Carpet Lounge, where we quickly arrived thanks to a separate Fast Track security inspection area.
(Betty Lou reminded me of the man near us who, overhearing our offer, said he'd also volunteer – letting the rest of his family conntinue on with this flight!)
And United's Business Class is really plush these days. The seats seemed to be modeled after Lay-Z-Boys; one can recline almost supine. The Champagne was Pommery, although when a steward heard our favorite was Pol Roger he brought us back from the First Class cabin a couple of glasses of their Cuvée Winston Churchill, wine shop price over $100. There was a selection of eight other wines to go with dinner; the several we tried went well with the sliced smoked salmon with capers and lemon aioli and the 2" thick tenderloin with Dijon mustard sauce, both of which made me think we were still on the QE2. (Their menu was careful to point out that the beef was from South America – the threat of mad cow disease is still a major concern in Europe.) And later we had high tea, with traditional tea sandwiches, assorted breads, clotted cream, and a cheese plate with fresh fruit.
The guy in the next seat, who been at the Farnborough Air Show, said his ticket had cost his company $3,700. He wasn't sure if that was one-way or round-trip, but he didn't have a Saturday night stay. I thought it must be round-trip, and realized that was more than our entire cruise, which included air. However, when I checked Expedia for equivalent trips I found $8,300 round-trip fares far into the future. I guess you can tell I didn't take such business trips in my days at MITRE, although we did fly Business Class by paying $100 additional over the full-fare Lufthansa tourist ticket when we moved to Germany in 1989. Business Class, or higher, was required for us to take our cat, Crumpet, into the cabin with us. Evidently Tourist Class crowding is considered inhumane treatment for animals – obviously we need an ASPCH[umans].) I guess there's a reason Business Class is so plush.
I asked him about the show, and he said Russia did not display any planes this year. They had originally planned to bring a Sukhoi, but they were concerned that it might be impounded for unpaid debts! I didn't ask him what model it was – it would be ironic if it was the same one that crashed into the crowd at an air show in the Ukraine a few days later, killing 78.
© Copyright 2002 Jack Ludwick - All Rights Reserved
Home