Home


Bull Shirt
Spain, 2000
As soon as I saw a guy wearing one of these in Nerja, a Costa del Sol town that hasn't yet been condo-ized, I knew I had to have one.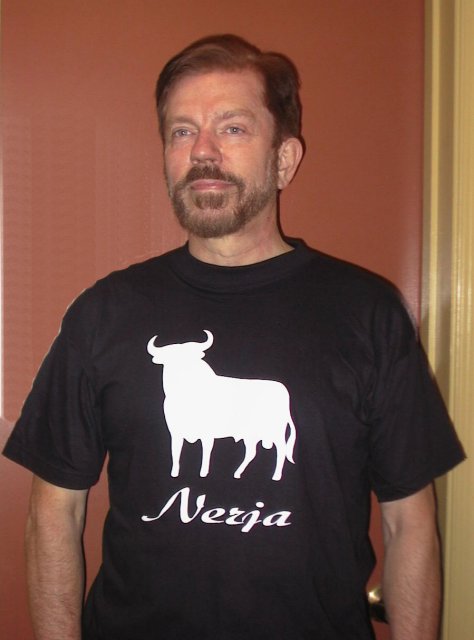 Betty Lou thinks it's too anatomically correct to wear in public but it seems to me to be the perfect Casual-Friday garb. Of course, the fact that almost nobody has heard of Nerja1 makes it that much more intriguing; it's obviously not the Spanish word for bull – could it be the type of bull?
Although we had seen several huge black cutout billboards that featured this bull along various roadways, we didn't find out until after our return that originally they were advertisements for Osborne Sherry. We thought they were symbolic of the Spanish national sport, or perhaps denoted areas where they raised those bulls. When Spain banned billboards in 1988, a large public outcry saved these, saying that they had actually become symbols of Spain. "Osborne Sherry" was removed, however. Based on our experience, their advertising campaign hasn't been as successful as they they might have wished!
---
1 While waiting in line to board the QE2 last fall, a couple who noticed that we were bringing our own wine2 lamented that they hadn't thought of doing the same – the guy said he had some really good 1958 Spanish wines. I said he must really be a connoisseur to have such old wines. He said not exactly, his mother was Spanish and they had lived half the year in Spain and half in the U.S. When we told him of our travels last year, he said that in fact his mother was from Nerja!
So we told him how much we had enjoyed our stay there, particularly a restaurant that we went to two nights in a row. The first night we congratulated our waiter, "Pedro," on his excellent English. We had previously noted that, unlike in previous countries we've visited lately, not that many people, even in the tourist industries, spoke any English. He admitted that he was Swedish, his name was really Per, and that he was the owner. Our new wine friend then told us that Per was his ex-brother-in-law!
---
2 Our first experience in bringing our own wine was during our February Caribbean cruise. When I contacted Holland-America, they said that there would be a $10 corkage fee to have it served in the dining room. (No cost if consumed in your cabin. And later we even shared some wine we'd bought ashore with another couple in one of the lounges with no repercussions; in fact, the staff brought us glasses.) The first evening I told our wine steward that we had brought some really good wines and realized that there was a corkage fee. He replied that we didn't need to worry about it. We made sure he got a substantial taste of each.
Although the QE2's stated corkage fee was higher, the result turned out to be the same.
© Copyright 2001 Jack Ludwick - All Rights Reserved
Home